A job interview in English can be a stressful experience. So let's take a look at what recruiters expect, the most common questions asked during an interview and the vocabulary you need to know in order to deal with this situation comfortably. Here is everything you need to know to succeed in your job interview and land your dream job!
Get to know the company
Irrespective of the language you are interviewed in, it is important to do some research on the company that is recruiting. The easiest way to get relevant information is to visit their website.
If there is a multilingual version of the website, have a look at it in English to get an idea of the vocabulary used by the company. Is the tone more formal or casual? Do they use industry jargon?
Feel free to visit all the pages of the website to get as many details as possible. Does the company have offices in several countries? If yes, this will give you an idea of the English accents you will have to get used to if you are hired. Is there an organisational chart on the site? Try to identify your potential recruiter!
Take the opportunity to familiarise yourself with the company's values and try to identify what sets it apart from its competitors. Any information is good to have!
Identify the different types of job interviews in English
In order to prepare for your interview, it is important to know what it involves. There are two main types of job interviews in English. It all depends on whether you are applying to:
A French company that wants to recruit someone who speaks English;
A foreign company looking for someone with specific professional skills.
In the first case, it is the mastery of English that will make the difference during your interview. In the second case, it is your professional expertise and your ability to work in an international environment that will be assessed.
Example:
A large restaurant in Nice is interviewing you for the position of a floor manager who is trilingual (French, English & Italian). Obviously, you will have to show that you know your job as a floor manager. However, what will make the difference between two candidates for this position is your command of the languages required in a professional context.
On the other hand, if you are applying for the position of an analyst in a start-up based in London, it is your business skills that will be most important to the recruiter. Of course, you will be interviewed in English, but not to assess your language skills. This is simply because it is the company's working language. The aim here is to understand the recruiter and to be understood in English. An intermediate level may therefore be sufficient.
Prepare for the essential questions of a job interview
Just like French recruiters, Anglo-Saxon recruiters have their own set of favourite questions! To put the odds in your favor and succeed in your interview "with flying colours" , anticipate these questions and prepare your answers in advance. Here is a list of the 10 (+1) most frequently asked questions at job interviews in English:
Can you tell me more about yourself?
Why should we hire you?
What is your greatest strength/weakness?
Why do you want to work for us? Note: this is where your research on the company will come in handy!
What is your greatest achievement?
Why did you leave your last job?
What was the worst work situation you had to face, and how did you overcome it?
Where do you see yourself in 5 years?
How can you contribute to our organisation?
What is your dream job?
+1 Bonus: do you have any questions for us?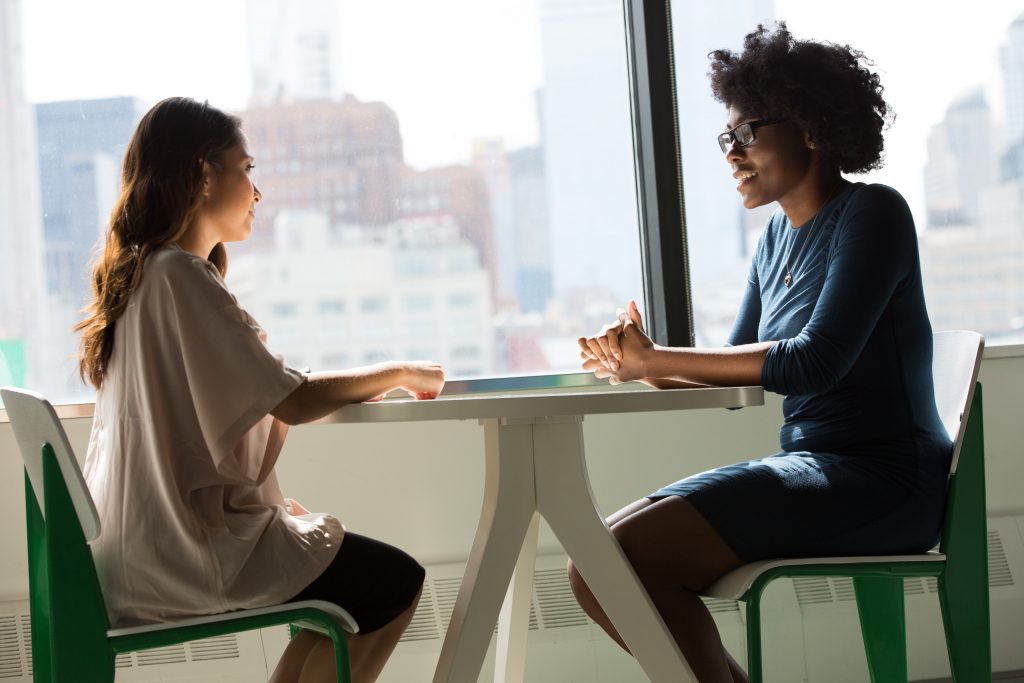 Learn the essential vocabulary to talk about yourself, your strengths and weaknesses
When you look at the content of the usual questions asked by recruiters, you will have understood: you must learn to speak about yourself in English. Here are a few words that could be useful to talk about your strengths, weaknesses, past work experience and ambitions.
10 examples of strengths appreciated by recruiters:
autonomous
reliable
dynamic
positive
accurate
hardworking
organised
imaginative
open-minded
punctual
Additionally, these words and expressions will help you to highlight your qualities:
to be a good team player/ problem solver/ leader… ;
to cope with pressure;
to think outside the box;
to be able to… / to be capable of…;
skill;
to be gifted in…;
to succeed.
As for your weak points, you should obviously not dwell on them. However, you will find below some useful vocabulary to talk about your "little flaws":
I have a tendency to … / I tend to…;
I have difficulties saying "no ";
Sometimes, I can be…;
I am not comfortable with…;
It can be difficult for me to…
Practise in front of a "recruiter"
Clearly, the most difficult part of preparing for a job interview in English is learning to speak with confidence. You may be afraid of stammering, or of making stress-related language mistakes. Don't panic! To overcome your fears, you can have a "mock interview".
Ask an English-speaking friend to play the role of the recruiter and answer their questions in English. The more you practise, the more spontaneous your answers will become. This way you will be ready for the D-Day.
If you don't know anyone who could play the role of the recruiter, why not book an English lesson by video conference with 1to1PROGRESS? We have a team of English trainers who specialise in recruitment and human resources. They will be delighted to help you prepare for your interview!
Bonus: an English job interview glossary of terms
a job;
to look for a job;
a position;
to apply;
an application;
to work as…;
a job interview;
a resume;
a cover letter;
to hire;
salary;
perks;
a colleague;
a manager;
an executive;
a department;
an employee.
Don't hesitate to read and reread this article to familiarise yourself with the vocabulary that will help you succeed in your job interview in English! We hope your recruiter will end the interview with the following sentence: "You're hired!"
Alternatively, our trainers can guide and coach you in English to help you prepare for your job search!